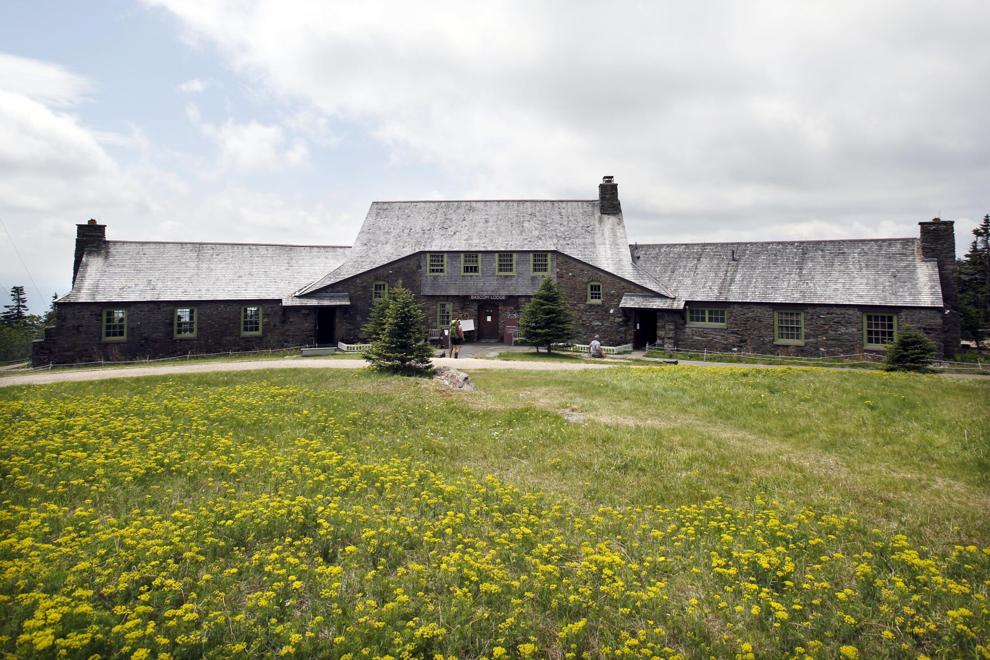 ADAMS – Atop Mount Greylock, Massachusetts' highest peak at 3,491 feet, the historic Bascom Lodge is about to open its 85th season and welcome tourists, Appalachian Trail hikers – the historic thoroughfare runs through the summit – and visitors traveling near and far to enjoy unspoiled nature, clean mountain air and breathtaking views of four states.
Built during the Great Depression by the Civilian Conservation Corps from Greylock shale and red spruce timber, the distinctive Arts and Crafts-style structure opened in 1937, providing food, shelter and lodging for day and night visitors. night.
Bascom Lodge officially opens for the season on Saturday 28th May.
Since 2009, stewardship of the lodge has been in the able hands of Bascom Lodge Group, a triumvirate of artist Peter Dudek, his brother, chef John Dudek, and John's partner, designer Brad Parsons.
Over the years, the trio have made substantial improvements to the lodge, resulting in warm and inviting common areas. simple and elegant private bedrooms and dorms; engaging public programs and quality culinary offerings.
A sculptor who teaches in New York colleges, Peter Dudek is closely involved in the maintenance and renovation of lodges.
"I do all kinds of things," he said in a recent phone interview. "Every season we come back and see water damage. We scrape, plaster and paint.
With such a large building, there is always something to sort out, he noted. "We had to do a lot of electrical work and install a brand new kitchen, fire suppression system etc. We had six rooms fitted with new windows to match the old style and refinished the floors in the dining room."
Although they did not close during the pandemic, adjustments were necessary. "We bought round coffee tables and spread people out. We used the porch, outside in front of the lodge, the lobby – people eat everywhere. For dinner, we separate people more, because they are seated longer. Eating on the porch is like eating outside, we have all the windows open, [so] there is plenty of ventilation.
Over the years, the lodge has attracted visitors from all over, Dudek said. "We receive international travellers, mainly from Europe, some from Asia. I met Italians, Germans, French, Poles, the whole European continent. People come for the weekend from Boston, New York, Connecticut, etc.
It hosts free concerts and informative talks every Sunday from 6-6:50 p.m. on the enclosed porch.
Families can enjoy Nutshell Playhouse's new play "Spyjinks" on July 24 and Make Collage with Diane Firtell on August 14, both starting at 1 p.m. A raptor presentation is scheduled later in the season and a yoga class is held monthly (fee charged).
"Part of our proposal to the state was that we would have free weekly events based on history, nature and culture," Dudek said. "I have been doing cultural programming for many years. This summer, I'm trying to reconnect with people who were unavailable during the pandemic.
"Discussions of the history of preservation with John Dickson draw incredible crowds," he noted. "The Paul Green Trio is very popular, they play klezmer and jazz."
Peter and John Dudek grew up in Adams at the base of the mountain.
"We knew the lodge very well, we had been there several times," said Peter Dudek. "We knew the state wanted someone to lease it, and it seemed like a good fit. I knew cultural programming, John was a chef, and Brad had a background in design. All this was used for the renovation.
They are now halfway through a 25-year lease.
"We played a major role in restoring the lodge," he added. "He was in pretty bad shape when we took him over. We really cleaned it up and renovated it – you name it, we did. People are very happy when they come back after being away for a long time, they appreciate that the place is sparkling. There is no need for drastic changes anymore, we just have to maintain things now.
The lodge has remained open during the pandemic. While the restrictions were severe, they came with an unexpected silver lining.
"We were extremely grateful for the PPP grants," explained John Dudek. "We invested the building money in things we could never have afforded on our own."
"[We] has just completed the installation of 16 windows and the replacement of the shingles at the front of the pavilion. Last season our furnace, dishwasher, dryer and ice machine [all] crashed and our computer could no longer handle financial programs. The grant covered these costs.
As well as creating a native plant garden in front of the lodge, Parsons also runs the now weekly Jazz Dinners every Saturday (Sundays June 19 and September 18). A range of rotating bands include Wes Brown Trio with vocalist Jill Connolly; Michael Benedict Trio; Trio Atla and Matt Dechamplain; Michael Junkins Group; and Jeanine Ouderkirk Trio.
"The [bands] come from Connecticut to Albany, NY, and they each have their own following," noted John Dudek. "People really like to have live music while they dine."
Prior to running Bascom Lodge, he had a long history as a pastry chef at Manhattan's finest restaurants and also as a private chef. It expanded the evening prix fixe dinners from three to four courses, with a starter and appetizer followed by a main course and dessert, all served on colorful Fiestaware. The menu, made with local farm-fresh ingredients, changes daily and includes a vegetarian option with prices ranging from $35 to $45, depending on entree choice. Tables are available in the rustic dining room and the closed and airy veranda.
Special themed dinners throughout the season offer a tantalizing taste of Moroccan, Persian, Mexican and Spanish cuisines. At a past Persian dinner, John Dudek, a restaurant in Albany, NY, and a native of Iran, said the meal reminded him of home.
Each year, the lodge serves 4,000 to 5,000 dinners and many more lunches. "A whole different crowd, cyclists, hikers, weekend locals, lots of kids," John Dudek said.
New this year, breakfast from 8 a.m. to 10:30 a.m. is offered as a buffet for $12, with bacon, eggs, oatmeal, waffles, granola, fresh fruit and more. A continental breakfast is offered for overnight stays. Lunch from 11 a.m. to 4:30 p.m. includes soups, salads, and sandwiches, as well as a variety of homemade baked goods. Parsons does all the baking and makes ice cream for the desserts.
At sunset, visitors can sample wines and beers from local breweries under the veranda and by the fireside from 4 p.m. to 7 p.m. The lodge is open from Wednesday to Sunday, as well as bank holiday Mondays.
John Dudek saw the lodge attract people from China, New Zealand, California and all over the East Coast. A group of amateur radio enthusiasts come twice a year, in the spring and fall, to install their equipment. Veterans visit the tower every Memorial Day; and there have been several "Celebration of Life" gatherings for those lost in the pandemic.
"It's better than staying in a downtown hotel," he said. "You can have your first cup of coffee, take a walk in the woods and enjoy the morning air. It's about 10 degrees colder.
"People love being in the mountains when the weather changes," he added. On one memorable occasion, he recalls, the mountain fog came in through an open window, passed through the dining room and out the other side.
"We are anticipating a good season," said Peter Dudek. "Let's hope we have good weather!"